Where do you start when remodeling a bathroom?
When it comes to your home, the bathroom may be the most important room. As a family grows, the bathroom doesn't, so bathroom remodeling is often necessary. What if your home only has one bathroom? Can you do a bathroom remodel without demolition? 
Today, we're going to answer some commonly asked questions about bathroom remodeling that can you decide if this is a project you want to undertake. Or maybe it would be easier to move? You tell us! 
Bathroom remodeling projects are a popular home renovation choice. However, there isn't any set formula for the process, most of the time it is by the fly-of-the-seat and trial-n-error.  Here we have put together a bathroom remodel to do list that has proven to help homeowners put together a bathroom remodel and design that is beautiful and functioning.
1. A Realistic Budget
Your first step needs to determine your budget, a realist budget, addressing ever expenditure. Among those expenditures for bathroom remodeling you need to include: 
Labor: Drywall, electrical, plumbing, painting.
Material: Paint, wallpaper, plumbing fixtures and fittings, surfaces, cabinetry.
Realize upfront that no matter how meticulous you are with your budget planning, there will be incidentals, so bump another 20% on the budget.  Have contractors and suppliers provide estimates and quotes to help you determine your budget. These estimates need to be broken down and include the supplies, a timeline, and building permit expenses. A dream bathroom can cost as little as $5,000 and up to $10,000 or more. 
2. Demolition
With the "business" part of your bathroom remodeling out of the way, the demolition can begin. Depending on the size of the bathroom and how much of it you're remodeling, this can day up to 2 full days.
This is going to be dusty and loud, and that dust will make its way through the house. Wear gloves, ear plugs, and safety eyewear, and consider renting a roll-off dumpster for the debris. 
Remove the vanity, sink, toilet, shower, tub, and any tile. Take precautions not to rip out electrical, plumbing, or metal ducts. Any thing you'll be reusing like the toilet or tub, cover them with furniture blankets. 
3. Place Special Orders  
New items for a bathroom remodeling project can be fun to shop, like the lighting and plumbing fixtures, the vanity cabinet, shower head, etc. If the stuff you want isn't readily available, requiring special ordering, order them now. There is no bigger let down and show topper than a special order item not be delivered when you get to that point of bathroom remodeling projects. 
4. Choose the Surfaces
As you choose the surface materials for your bathroom remodeling project, be sure to choose ones that are suitable for a bathroom. This includes the floors, counters, and walls, remembering they are going to be a humidity and moisture. If a surface material isn't made for this type of environment, it can ruin them and ruin your bathroom remodeling project.
5. The Unexpected Surprises
Bathroom remodeling projects are complex and that is for the expected and planned parts. There will always be unexpected issues and problems popping up because you don't know what to expect when you remove the vanity or take up the old flooring cover. 
6. Avoid Any Change Order
Just like special order items not arriving in time, a change order can be a showstopper, a budget buster, or timeframe extender. Avoid change orders if at all possible, any sentence that starts with "While we're doing this ….", shut it down. Some things can't be avoided, like meeting code compliance, but if any possible way to avoid a change order, should be avoided. 
7. A Safe Bathroom
Have grab bars installed with your bathroom modeling. They aren't the ugly styles of yesteryear anymore. In fact, they are stylish today in several finishes that will match any bathroom décor you have planned. 
8. Storage
A bathroom remodeling project is when you need to address any storage issues. The more people that share the bathroom, the more storage space  you need. If your remodeling project includes enlarging the overall size, add a full size linen closet. If there is space, replace the one-sink vanity with a double-sink and you get not just an extra sink, but extra storage space too. Instead of a mirrored wall, go with mirrored cabinetry for the storage space.  
9. Light It Up
With a bathroom remodeling project, now is the time to improve the lighting along with the storage. You want your bathroom to be attractive, functional, and welcoming. More lighting will make it safer by installing ambient lighting and task lighting.  Flush mount on the ceiling will illuminate the entire bathroom. Task lighting over the sinks for hair, make-up, and shaving tasks. 
10. The Ventilation 
There isn't any room in your home that needs effective ventilation more than the bathroom and a bathroom remodeling is when you need to address that issue.  A ceiling-mounted vent fan or a combo set is the best way to let the odor and steam out. This will keep the floor safe too because it will pull the condensation out of the room. 
How long does a bathroom renovation take?
Remember how we said to expect the unexpected for budget purpose? Well that goes for timeline purpose too. Those unexpected and unforeseen things delay a bathroom remodeling project, but it happens. It may not happen with every bathroom remodeling project, but it is better to expect the unexpected and not be surprised. An average time frame for a total remodeling a  small bathroom remodel can be between 20 to 23 days, or four to five weeks. 
Can I renovate my bathroom myself?
You can do your  own bathroom remodeling or renovation if you have basic andnecessary expertise and tools. On the surface, a bathroom remodeling may not seem to be that hard, but it gets more involved when it comes to the electrical and plumbing matters. Many cities are going to require an inspection before they put their approval on the job, so going with a professional may be the better option.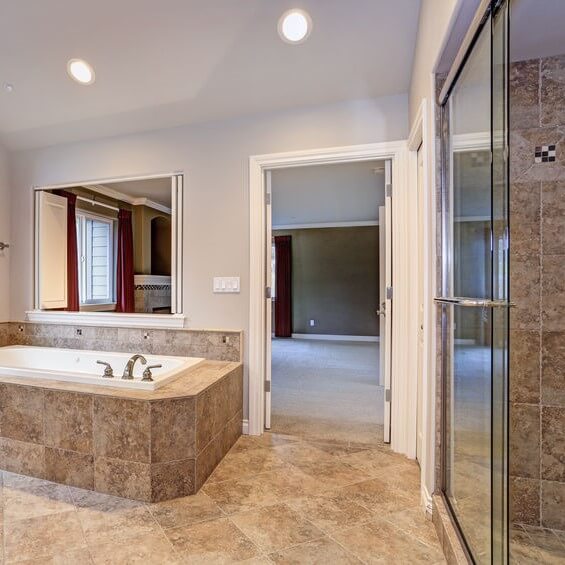 What remodel adds the most value?
 If you're looking at renovations and remodeling that will bring you more value when you sell your home, you need to choose the areas and room that are the money makers. Here is a list of areas and rooms that any remodeling will get you the most ROI value:
Outdoor Structures – deck, patio, porch, outdoor kitchen
A Full Bathroom Remodeling
New Windows
Increase Attic Insulation
New Roof
New Technology
Finished Basement
Complete Kitchen Remodeling
Is it worth it to remodel a bathroom, can a bathroom remodeling project be that much value-add that will get you're an ROI that is satisfactory? Absolutely!  Homeowners spend an average, of $20,000 for a midsize bathroom remodeling or renovation project and they can see just over 67% of that back. For a full-size, upscale bathroom remodeling or renovation project can cost close to $65,000, homeowner sees a 60% back. Want to get started on a bathroom remodel in Fort Worth, TX? Call Molberg Plumbing LLC at (817) 476-9963 today!