New kitchen, new value
If you're considering doing some updating to your house, put your money and time where you'll get the most return on investment – a kitchen remodel. Many homeowners are not sure which would bring them the most money back, a kitchen remodel vs renovation, but ask any "Does upgrading kitchen Increase home value?" and they will tell you, hands down, yes, the biggest ROI for any homeowner looking at an upgrade for their home, a kitchen remodel is the best place to put their money. 
You most likely won't get all your investment back, but you'll get more or your house as a whole with a kitchen remodel or update. The average cost for a major kitchen remodel can cost in the neighborhood of $35,000. That will typically get around $20,000 more for the sale of your house.
What order do you remodel a kitchen?
Okay, so now you're convinced if you will do any upgrades to your house, a kitchen remodel is the best place to put the money. So, what does this entail exactly? If you will do the kitchen remodel yourself, the following kitchen remodel to-do list will help you get started and stay on track, but remember, you should consider hiring a professional electrician and plumber for some facets.
Demo: You've seen it on television, demo day is the first step to start your kitchen remodel. (Just so you know, it isn't as easy and fast as they make it look.) This is where you take out anything that is outdated or worn, or whatever you simply just do not want to keep. From the cabinetry and walls to the light fixtures and flooring.  This is one area that having a professional contractor on hand is helpful because they will know how to work around hidden electrical and plumbing that you may not even realize are present. 
Rough-In: The next step in your kitchen remodel is to rough-in the electrical, framing and plumbing. If you're updating the electrical, now is the time. If there is plumbing to be added or moved, this is the time to rough it in. 
Inspection: Depending on the local laws where you live, after your kitchen remodel rough-in is complete, you may need a professional inspection, or your local governing office (city or county). 
New Appliances: After the cabinetry and plumbing fixtures are complete, bring in your new appliances! 
Finish the Walls: After your kitchen remodels have been passed inspection, finish out the walls with hanging drywalls and countertops. Put a primer coat on the walls for protection from scrapes and scuffs that are likely to happen during finishing the kitchen remodel. 
Doors and Windows: After the drywall is in place, it is time for doors and windows to be installed for your kitchen remodel.  Be sure to insulate around the doors and windows. If you're not selling your house, you'll benefit from this energy-saving step. If you are selling your home, this is an upgrade that could add more to your asking price.
Cabinetry and Plumbing Fixtures: The next step in your kitchen remodel process is installing the cabinetry, countertops, and plumbing fixtures, which will include the dishwasher, garbage disposal, sink, etc. This is the fun part of a kitchen remodel because you're seeing the finished products. 
New Flooring: Some experienced contractors prefer to do the flooring first, others do it last. This is a decision you want to make after you've laid out your kitchen remodel plans. 
How long should it take to remodel a kitchen? 
The time to complete a kitchen remodel project will depend on a few factors: 
The space being remodeled.
Walls built or torn down.
Structural changes like electrical and plumbing.
A fair estimation is ten to twelve weeks if there are no delays or problems.  
What is the most expensive part of a kitchen remodel?
It can depend on all the things you're incorporating into your kitchen remodel. The most expensive on average is usually the cabinetry, which can cost around $15,000 and up. The next expensive part of a kitchen remodel is the appliances, and depending on what pieces you get, you could spend as much as $8,000 to $10,000. The third biggest expense will be the countertops at $5,000 to $6,000.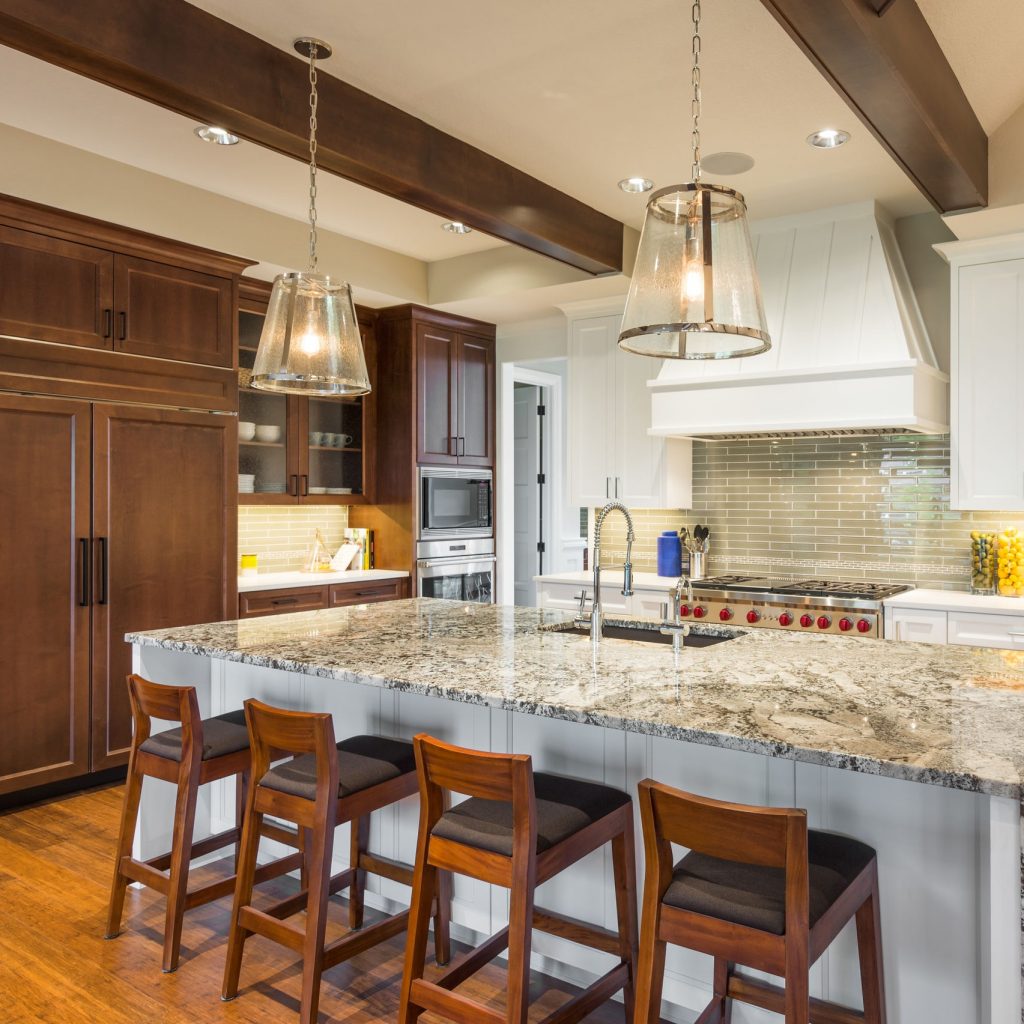 How can I remodel my kitchen for cheap?
Depending on the size of the job you have planned, the average kitchen remodel budget is between $20,000 to $50,000. However, not everyone has that kind of money to spend, but they still have a kitchen that needs updating, and there is a way to get it done.
If you want more than just repainting the cabinetry or new countertops, spending money to hire a professional designer will save you money.
Create your kitchen remodel plan with all the absolute decisions before you ever pick up a sledgehammer.
New cabinetry can be a huge expense. If the cabinetry you have is in good condition, reface them for a new look.
When it comes to the backsplash, don't go all the way around the kitchen. Just go along the one wall behind the sink and stove. This still creates the focal point without spending money unnecessarily.
Install better and more lighting will make the most of your kitchen remodel. Hang pendant lighting for light and style, new overhead lighting where you do your cooking and breakfast bar.
Don't move the plumbing! That is a huge expense.
Go with remnant granite, even mismatch the pieces will give your kitchen remodel character.
Be conscientious with scrap pieces, make the most of everything you can.
Dent and scratch appliances can save you money.
Add bun feet to any free-standing cabinetry, like an island, will make it look like furniture and beadboard paneling on the island or along one wall can spruce up your kitchen remodel.
Refinish your existing floors instead of laying new flooring. 
Even if you're not planning on selling your home, a kitchen remodel will be something you can enjoy for years to come. Make smart, well-informed choices that will give you the most for your money, whether your budget is limited or unlimited. Dial (817) 476-9963 today for your kitchen remodeling project in Fort Worth, TX.